MAPLE (Multipurpose Applied Physics Lattice Experiment) is a research-reactor technology developed by AECL, capable of fuels and materials testing, isotope production, and neutron experimentation (see related FAQ). The MAPLE concept features a 19.75% U235 enriched, H2O-cooled and D2O-reflected core, and operates with a thermal power of 5 to 40 MWth. It offers a high thermal neutron flux, small core volume, and accommodation for multiple beam-tubes and in-core experimental sites, as well as driven spectrum-specific facilities in the reflector (cold-neutron source, fast-neutron flux trap, etc.).

HANARO, South Korea's research reactor which reached first-critical on February 8, 1995, is based upon Canadian MAPLE reactor core technology (see the HANARO Web Site for more information).

AECL constructed two 10 MWth MAPLE reactors at Chalk River Laboratories (see photos and diagram), which AECL had planned to own and operate on behalf of MDS Nordion, a global radiopharmaceutical supplier. MMIR-1 (or "MAPLE 1"), the first of these two new MAPLE medical isotope production reactors, was declared "critical" (began a self-sustaining chain reaction) at 2:53 a.m. on Saturday, February 19, 2000 at Chalk River Laboratories, becoming the world's first reactor of the new millenium. Achieving criticality is an important milestone on the road to full commissioning. (See also a related editorial by the author.) MMIR-2 ("MAPLE 2") achieved first criticality at 2:08 p.m. on October 9, 2003.

The two reactors would have replaced most of the commercial isotope-production capability of AECL's NRU reactor. By 2008 commissioning excercises had taken the MAPLE 1 core to high power (8 MWth) and successfully tested many of the systems, including the safety shutdown system under conditions such as loss of power regulation. However, several first-of-a-kind technical issues significantly delayed the commissioning process, including regulatory concern over the power coefficient of the MAPLE core (discovered during commissioning to be small but positive). A series of tests were initiated to determine the cause of the positive power coefficient. On Friday, May 16, 2008, AECL announced that it had halted the development of the two MAPLE reactors at Chalk river Laboratories, citing future costs, risks, and changing market conditions beyond AECL's control. Instead, medical radioisotope production at AECL would continue for the forseeable future to utilize the NRU reactor at Chalk River Laboratories, and development resources would be focussed on both extending the life of that facility, and developing a mutually satisfactory plan with AECL's main medical radiosisotope custormer, MDS Nordion.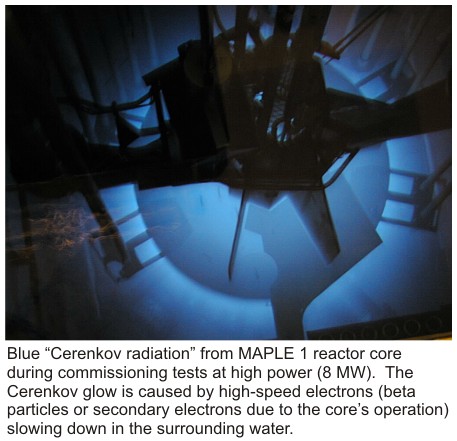 ---
Related FAQs...